Award-winning actress Celeste Varricchio brings to life Rolfe Humphries' masterful translation of the Metamorphoses, the greatest work of Ovid, one of ancient Rome's greatest poets, and recalls the glory of Greece, the grandeur of Rome and the magic of Mount Olympus. Music of classical antiquity, choreography reminiscent of Greek vase painting, and Roman costume complete the atmosphere.
Through a persona of the Narrator, an urbane entertainer of the Imperial Rome of Augustus, Ms. Varricchio captures the audience's imagination and carries her listeners to the woodlands and villages of ancient Greece. There, through skillful storytelling and exciting characterizations she becomes a god, a goddess, and the mortal who encounters them and is forever changed.
Ovid's Metamorphoses is a delightful entertainment for everyone – the student, the scholar, the patrician, the plebian. It has played in New York City and has toured to schools, universities and to the Edinburgh Festival Fringe in Scotland.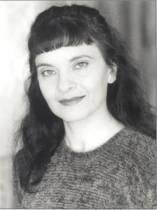 Celeste Varricchio has performed and directed in New York City, at regional and stock theaters throughout the US, in roles of all types of theater ranging from classical drama to musical comedy. She has worked as production assistant for several Broadway productions. She tours her one-person shows and storytelling workshops to school and universities, festivals and major arts institutes both in the US and abroad. An accomplished Middle Eastern dancer, she performs under the name of Morgiana in clubs, restaurants and at special events. A recipient of the Greer Garson Theater Arts Award, Ms. Varricchio holds an MFA from Trinity University, San Antonio, TX and a BA from Lehigh University, Bethlehem, PA.